Love And Money: Scripts For Talking About Money With Those We Love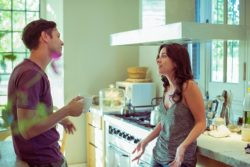 Communication is key to making sure you're both on the same page regarding your finances. After all, money is a major part of life. Even if you don't agree on how money should be spent or saved, identifying your financial values and personalities is one big step in the right direction.
Before the conversation
Before starting a conversation, see to it that the setting is neutral and friendly. You should both be feeling pretty good, meaning not tired or stressed. It's a good idea to take a walk at the lake, go for a stroll in the park or have lunch at a restaurant.
If you can, establish a time limit. After 15 minutes, do something fun and completely unrelated. Set that expectation up front and you'll find that you can really accomplish a lot in a short amount of time without anyone becoming upset.
In most cases, the other person will secretly (or perhaps openly) be glad you brought it up. Once the air is clear, mutually beneficial solutions can usually be found.
How to start the conversation
If you have a financial concern that you'd like to discuss with your partner, start by thinking about what the issue is really about. Are you upset that your partner goes out to lunch each work day, or are you more concerned that your partner hasn't taken the initiative to cut back on expenses? It's not about the lunch; it's about the money.
Use "I" statements. For example, "I feel hurt when our credit union statement comes and I see large expenses I didn't know about." Begin the conversation with your concerns, being careful not to place blame on your other half. "I'm concerned that we're not sticking to the budget like we should," or "I think we should sit down and take a look at where we can cut out unnecessary expenses," doesn't place the focus on one particular expenditure or person. It leaves the door open for discussion in multiple directions. And it doesn't place blame on anyone, which is key to having a productive and loving conversation.
If the conversation becomes an argument, call a time-out. Say something like, "This is a really important discussion and I'm glad we're having it. It's not easy to talk about this. Let's take a break to think things through and continue talking when we're both feeling better."
Joint or separate accounts
Whether to have joint or individual accounts is a personal decision that encompasses factors that are as unique as your relationship. If you and your partner cannot agree about how money should be spent or saved, utilizing one joint account for regular household expenses and individual accounts for your own "fun" money might be a good option. But that doesn't mean you stop communicating about finances. In fact, it may be more important than ever to discuss how much you're each spending, earning and investing, and if you're married, it's never a good idea to borrow without first having a conversation about it.
It's a good idea to keep an agreed-upon amount of cash of your own in an individual account. Each of you should have money to spend on small indulgences with no questions asked. Agree in advance on what types of expenses are personal. For example, is a magazine subscription personal or part of your overall spending plan? Deciding in advance will leave little room for argument later.
Never criticize each other in public about money. Keep financial discussions private.
Open-ended conversation starters
It's difficult to begin a conversation about money. It's stressful and can cause anxiety about how your partner may react. Here are some tips and conversation starters that will get you on the right track.
If you're in a serious relationship and considering marriage or a permanent partnership, discuss finances before you take the plunge. Start with:

"I've heard that arguments about money are the leading cause of divorce. I think it's important for us to be open about our finances as our relationship moves forward. Can we talk about what's important to us and where we are financially right now?"
And then offer to disclose your financial situation first. Most important: Be open and honest.
For married couples just starting out:

"Wouldn't it be great if we could be debt-free by the time we're <insert age here>? What do you think are some ways we could make sure that happens?" This leaves the conversation completely open to brainstorming, rather than putting blame or directives on anyone.

For couples that have weathered some financial storms:

"<Insert year> was such a hard year financially! I learned <insert learning lesson here>."
This is simply opening a door for your partner to walk through and continue the conversation. If he/she chooses not to, that's fine. But try this tactic again at a later time, once your partner has had time to mull it over.
When you're concerned that your financial values do not match your partner's:

"I know we come from different backgrounds, but I think it's important that we create our own financial future together. I don't feel like we're on the same page. Can we discuss some ways we can work together and support one another toward a financial goal?"
Again, even if you're unsatisfied with your partner's financial behaviors, there's no blame. You're simply opening up the conversation so you can work together.
Discussing finances is never easy. Yet keeping the lines of communication open creates the backdrop for a loving relationship without the stress of hidden purchases and unspoken resentments.