7 Tips to Save for Your First Car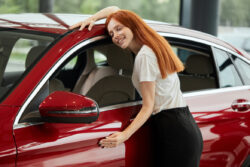 Buying your first car is an exciting experience! After all, with your very own vehicle, you can finally experience the freedom and independence you've been wanting. No longer will you have to ask for rides from your friends and family or rely on ridesharing services or public transportation.
However, buying a car also means you'll have additional expenses each month. If financing your vehicle, you'll have to consider the down payment and ongoing monthly payments. Plus, you will need to budget for gas, insurance, and maintenance. While saving for your first car may take some time, you'll be on the road to freedom in no time by utilizing these seven tips.
1) Determine How Much You Need to Save.
When preparing to buy your first car, the first step is to determine how much you'll need upfront and each month in the future. Spend time doing research online to get an idea of the cost of the vehicle you want. You can call the credit union for help determining your monthly payments, or you can use our free online financial calculators. You'll want to determine how much is necessary for the down payment and what the payments will be each month.
Once you factor these figures into your budget, estimate how much is necessary for fuel and insurance each month. A quick call to your insurance company will help you obtain a new quote. Then, determine how much driving you'll be doing each month – are you driving to work or school? It's wise to always overestimate how much you'll spend on gas each month since fuel prices fluctuate.
2) Open a Separate Savings Account.
In order to prevent spending the money you're saving for your new car accidentally, consider opening a separate savings account. It's smart to limit access to this account to help avoid any temptations to spend it on other things. You can use this account for your down payment, saving for upcoming monthly payments, as well as gas, insurance, and maintenance.
3) Automate Your Savings.
Putting your savings on autopilot is a great way to ensure your new car fund grows consistently. Whether you're currently working a job or earning money through various tasks, there are tools to help you automate this process.
Payroll Deduction is the perfect tool to automate your savings if you're receiving a paycheck regularly. Every time your paycheck deposits into your account, a portion you choose automatically transfers into your savings account.
If you receive money through various tasks, like an allowance or odd jobs (such as mowing lawns in the neighborhood), Automatic Transfers are ideal. Similar to Payroll Deduction, you choose the amount each month to transfer to your savings account. However, instead of being tied to your paycheck, the transfer takes place on a specific date you choose each month.
4) Save Regularly.
Always try to add extra funds to your savings whenever you can. For instance, if you receive money for your birthday or the holidays, consider putting a portion of these into your savings account. That way, you can spend a little on yourself and still continue to build your new car savings. Even if it's a small amount, get in the habit of regularly depositing a portion into your new car fund. Every little bit helps!
5) Increase Your Income.
If you currently have a job, you may want to consider asking for extra hours. Or, you may want to look into other side gigs, such as freelancing projects. Another option is to ask your friends, families, or neighbors if there are any tasks you can help with to earn more money. These could include lawn maintenance, car washing, or even pet sitting. Quite often, if you explain you're trying to make money to buy a car, they'll be helpful and find tasks you can help with to reach your financial goals.
6) Think Modestly.
Since this is your first car, think small and think modest. You probably shouldn't be buying a high-end vehicle. Why? Even if you can afford the monthly payments, the insurance and maintenance can quickly deplete your budget. In addition, you want to use this first vehicle as a means to learn the ins and outs of owning a car and all that's required.
Plus, buying a modest car will require you to save less money for the down payments and ultimately spend less throughout the life of your vehicle. Always keep in mind that you can trade up later on when your income increases.
7) Ask Your Parents.
Consider asking your parents to help you. If they see you're being responsible in planning and saving for your new car, they may assist you. For instance, ask if they are willing to match your down payment amount or help pay for a portion of your monthly car or insurance payments. Either way, it never hurts to ask. You may be surprised by their answer.
We're Here to Help!
While buying your first car is exciting, it's important that you financially prepare yourself for all the expenses involved. If you need assistance in determining how much car you can afford or if you're looking to open a separate savings account or set up payroll deduction, we're here to help.
Please stop by any of our convenient branch locations or call 801-451-5064 to speak with a team member today.
Categorized in: Auto Financing, Auto Loans, Budget, Financing, Savings