5 Tips to Curb Overspending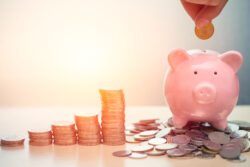 Nothing beats the joy of treating yourself! Many people feel drawn to the thrill of buying new items, pampering services, or tasty meals. However, overspending can become a financial problem when you're not keeping track of your budget, leading to unwanted debt and stress.
The good news is there are ways to curb excess spending while still being able to enjoy yourself.
Simple Ways to Curb Overspending
#1 – Avoid "auto-renew" plans. The subscription business model turned out to be a huge win for companies. There are subscriptions for just about everything today – from streaming services to meal plans. The challenge for consumers is keeping tabs on all of their subscriptions.
One easy way to prevent paying for services you no longer use or need is to turn off the "auto-renew" option in your account. Sure, this feature is convenient and prevents interruptions in your service. However, disabling it requires you to choose whether that service is still worth keeping around.
Some companies allow you to "auto-renew" for only a set length of time, such as a year. In this case, you're able to have the payments come out monthly automatically, but then you are contacted before the 1-year date to decide if you still want the subscription. This option gives you the convenience of automatic payments without being tied into an ongoing subscription.
#2 – Give yourself an allowance. Before you set out to spend some of your hard-earned money frivolously, take some time and create a monthly budget. Allocate a set amount of fun money, or an allowance, to use however you wish. With this option, you still have the opportunity to treat yourself, but you'll stay within the confines of your budget.
You can even take this option a step further and give yourself a "cash" allowance. This strategy helps in that it provides a visual as you spend the allocated money. Unlike debit or credit cards, you physically see your money disappear as you spend it. When you're making a purchase and see your spending money actually leaving your wallet, you tend to think twice about all your purchases.
#3 – Put your money in a separate savings account. Some people think, "if I have money, I might as well spend it." To curb this desire, open up a separate savings account you cannot access with a debit or ATM card. You should only touch this money in an emergency.
If you don't trust that you'll leave the savings account alone, try opening a Share Certificate Account. With this type of account, your money is locked up for a term you choose – usually between one to five years. In exchange for locking in your funds, you'll earn higher dividends from the credit union when compared to a traditional savings account.
#4 – Unsubscribe from the deals. Do you find it difficult to resist a good sale? If so, an easy way to eliminate the temptation to spend is by simply unsubscribing. That includes removing your favorite shopping apps, unsubscribing from retailers' promotional emails, and unfollowing companies on social media.
Cutting ties with retailers doesn't have to be permanent. Much like a healthy eating change, you cut off the tempting treats and ease them back into your lifestyle over time. Soon you'll see your account balance growing due to less spending, and you might decide a heftier savings balance is better than this weekend's flash sale.
#5 – Track your money. Hold yourself accountable by tracking your daily spending in an app or journal. When you regularly record all of your expenses, you can see exactly where your money is going. It may be alarming how much money you spend in a month. But use this as an opportunity to identify areas you can cut back.
If logging every expense becomes too much of a hassle for you, review your monthly account statements. Add up how much is spent from your checking account and with credit cards. Then divide that total by 30 days. This amount is how much you spend on average each day in a month. Set goals, such as reducing this daily amount by just one or two percent. As you feel comfortable, up the amount.
We're Here to Help!
Retailers try their hardest to get you to part ways with your money. From the onslaught of advertisements and promotional messages, it's a challenge to tune them out. However, implementing the tips above will help you curb frivolous spending and boost your savings.
If you're interested in opening a savings account or would like more information on budgeting, we're ready to help. Please stop by any of our convenient branch locations or call 801-451-5064 today.