Why We Celebrate International Credit Union Day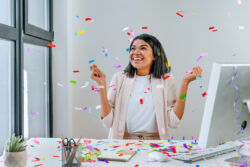 Since 1948, credit unions will celebrate International Credit Union Day®. This year it's on October 19th. Often appearing as the unsung heroes among financial institutions, credit unions use this worldwide event to highlight their commitment to financial well-being for all.
People often confuse credit unions with banks. On the outside, they appear similar. However, the differences between these two entities are vast, and the financial opportunities credit unions create should not be overlooked.
In this article, we'll explain what a credit union is and reveal why members worldwide continue to join and honor this amazing movement.
What is a Credit Union?
A credit union is a not-for-profit financial cooperative. That means the institution is owned and managed by the same people it serves. Unlike banks that seek to appease shareholders, when the credit union does well, all members benefit. Because they are not-for-profit, credit unions' goals are aligned with those of their members – not their bottom line.
Do you ever wonder why you don't see many nationwide credit unions? It's because these financial institutions were created to serve specific groups of people. While some credit unions focus on a particular employer group, such as military families, others are community-based and benefit the people and businesses within a given geographic area.
These operational differences create distinct advantages and financial opportunities for members. Before highlighting these benefits, let's glance at the worldwide impact of the credit union movement.
Statistical Review of the Credit Union Movement
According to the World Council of Credit Unions (www.woccu.org), there are over 87,000 credit unions that:
Serve nearly 400 million members worldwide.
Operate in 118 countries across the globe.
Manage over $2.9 trillion of member funds.
Structure: A Community of Owners
Each credit union member is part owner and has a say in how the institution operates. Applying a democratic approach to financial wellness, members vote on key matters and select the credit union's volunteer Board of Directors.
A crucial difference within the credit union world is how these organizations operate. Instead of relying on outside investors like banks, members pool their money together to benefit one another.
Members deposit their money into the credit union.
The credit union then either loans this money to other members (e.g., car loans, mortgages, credit cards, etc.) or invests it.
Income generated by the credit union is used to cover operational expenses, financial reserves, and pay for new programs or services for the membership.
Any profits are returned to the members through a slew of financial perks.
The Perks of Membership
As not-for-profit financial institutions, credit unions generate substantial benefits for their members. Profits are reinvested into the credit union and relayed back to members through perks, such as:
Many Services Provided at No Cost
Without the need to earn profits for outside investors, credit unions can focus on the financial well-being of those they serve and their communities. Financial literacy remains a crucial component of each credit union as they seek to improve members' lives.
The Credit Union Philosophy
Credit unions operate on the philosophy of "People Helping People." Members come together to serve one another and generate financial opportunities for all. Their dedication to each other stems from the affiliations they share as members, whether that be the community where they live, their place of employment, or another cause.
As a member of a credit union, you can rest assured knowing your fellow members only want the best for you and the rest of the membership.
Safe, Secured & Insured
Worldwide, credit unions operate under similar yet different rules and regulations. In the United States, the credit union movement is governed by the National Credit Union Administration (NCUA). This US government agency regulates and audits credit unions in the same manner as the Federal Deposit Insurance Corporation (FDIC) does for banks.
Each credit union must adhere to specific rules, policies, and laws in terms of managing their institution. In addition to regular examinations by the NCUA, credit unions also hire outside auditors and utilize a volunteer group of members to ensure the institution operates in the best interest of its members.
Every member account at the credit union is federally insured up to at least $250,000 by NCUA and backed by the full faith of the US government.
Join Us in Celebrating!
As we prepare to celebrate International Credit Union Day®, we invite you to learn more about your credit union and this amazing movement. Spread the word and share the benefits of membership with your family, friends, and coworkers.
Everyone deserves the opportunity to improve their financial well-being and achieve their fiscal goals. Together, we can all benefit as the credit union grows and strengthens our community.