Is it Time to Look for a New Credit Card?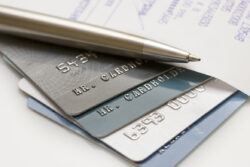 If you're like most people, you probably have one or more credit cards in your wallet. Credit cards are one of the easiest and most convenient forms of payment, making them so popular today. Plus, with the ability to purchase just about anything and pay for it over time, many people tend to turn to them first.
However, not all credit cards are the same. Whether it was the lure of valuable rewards or a limited-time 0% offer that originally got your attention, these "deals" may work against you and cost you more in the long run.
Here are some reasons you might want to look for a new credit card.
Your Credit Score Increased.
Your credit score and history help determine the interest rate you're charged on a credit card. If your score was on the lower end when you first opened your credit card, you probably received a higher interest rate.
During the course of using your card, if your credit score has improved, you may qualify for a lower interest rate. Since credit cards are loans, it's always wise to seek the lowest interest rate possible.
Your Interest Rate Increased.
If your interest rate recently increased, it may be time to find a new credit card. While some rate increases are a result of the economy and can be out of your control, there are other increases you can avoid.
For example, you might have opened your credit card because of a 0% or low-interest introductory offer. When that promotional period ends, your interest rate will jump to the standard rate for your card (which could be very high). In this instance, it may be time to move to a lower-rate option.
You're Not Earning Rewards.
Everyone loves earning extra perks with their credit cards. The problem is that most of the reward-earning credit cards advertised today come with expensive fees and high-interest rates. But that doesn't mean you cannot find balance if you look.
Lenders today realize that offering a rewards program is essential to stay competitive in the market. Begin your new credit card search by focusing solely on low-interest rates. Once you narrow down the list of cards, you'll likely find several low-rate cards also come with rewards.
You're Charged Costly Fees.
If your credit card comes with hefty fees, it's time to switch. While some charges, such as late payment fees, are consequential to your actions, there are other fees you can easily avoid. For example, many credit cards are available today without burdensome balance transfer fees or annual fees.
An annual fee is a charge simply for having access to use the credit card. Often, credit card companies dress up their annual fees by packing on extra perks. However, many cardholders find they rarely take advantage of these perks and instead pay a hefty price for nothing.
If you have a credit card that charges an annual fee, make sure the rewards attached to it outweigh the cost. Otherwise, ditch that credit card and find one without the extra costs.
You Have a Low Credit Limit.
Suppose you have a lower credit limit and your credit card provider hasn't increased your limit or refuses to do so, despite you being a responsible cardholder. In that case, you may want to find a new card that offers a higher credit limit. A credit card is a great tool to use in emergencies – and you want to make sure you have the spending power necessary should you ever need it.
Reminder:
It's important to remember that credit cards are still loans despite the lure of perks, such as rewards. It's always best to get the lowest rate possible – especially if you cannot repay the entire balance each month. If you carry a balance on a high-interest card, the interest charges will quickly outweigh the value of any perks you earn.
We're Here to Help!
There are many reasons why you might consider switching to a new credit card. Whether you're looking for lower interest rates, eliminated fees, or need more spending power, we're ready to help.
To learn more about our credit card program or transfer higher-rate balances to the credit union, please call 801-451-5064 or stop by any of our convenient branch locations.
Categorized in: Budget, Credit Cards, Debt Consolidation, Savings, Spending