How To Protect Yourself From Identity Theft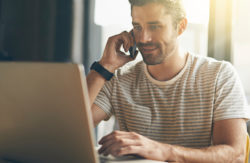 Chances are you or someone you know has had their identity stolen at one point or another.  It can be expensive, stressful and extremely complicated to recover from.  Here are seven ways to help protect yourself and your most important data from identity thieves.
Secure Your Hardcopies
Most of us think of identity theft as a digital crime, but many thieves are just as eager to get their hands on your paper documents.  While online accounts are password-protected, important paper documents are often left in a drawer or simply tossed in the trash, where dumpster-diving thieves can find them.
What's the solution?  Buy a safe and a shredder.  What's not shredded goes in the safe. Of course, the same level of care should go into protecting your physical credit cards.  Don't put your wallet in your back pocket. Make it a habit to check to see you have all your cards and IDs when you get home at the end of the day.  This will help you be aware of missing items earlier so you can cancel lost or stolen cards before too much damage is done.
Examine Your Financial Statements
Reviewing your financial statements is a good practice.  Not only will this help you track financial habits, it will also alert you to any fraudulent charges.  Credit unions and banks do a lot to protect consumers from fraud and identity theft, but only you know what you purchased and what you didn't, so look closely at those statements!
Choose Good Passwords
Many people have one simple password they use for all devices and platforms.  This is convenient, but dangerous. Yes, there is reason to worry that having multiple hard-to-remember passwords may make it more difficult for you to access your own accounts, but potential identity thieves will have a more difficult time too.
Protect Your Computer
Malware is just one way identity thieves steal your data.  Invest in a good and reputable antispyware program to make sure your hardware is safe from invaders.
Another way to protect your computer is to encrypt your hard drive.  Apple computers and PCs alike will offer the option to encrypt all data in your hard drive.  Go to your security settings and choose to activate the encryption option.
Be Aware of Suspicious Emails and Websites
If an email looks suspicious, it probably is. If you have too many promotional emails, start clicking the unsubscribe button.  This will help you spot suspicious, unsolicited mails.
The same goes for websites.  Your browser or antivirus software may try and warn you about suspicious websites before you enter them.  Don't disregard those warnings.
Use Two-Factor Identification
The most convenient option is not always the most secure, but given the choice between convenience and security, your best bet is the more secure one.  Two-factor identification for email accounts and other important online accounts will add an extra step to the security process for log-ins, most often making use of your phone number as well.
Secure Your Wi-Fi and Avoid Public Wi-Fi
Public Wi-Fi is often insecure and can be a great way for thieves to get to your data.  Steer clear if you can.  If you have no choice, be sure to avoid all online banking or password logins while using public Wi-Fi.  Additionally, be sure to secure your own home Wi-Fi with a unique and hard-to-guess password
Categorized in: News