HCU Partners With Bountiful Food Pantry in Davis County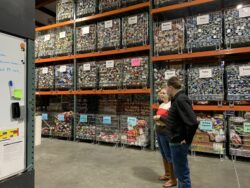 Farmington, UT — February 4th, 2022 — Hundreds more families in Davis County can receive the help they need thanks to Horizon Credit Union. During the month of December, the credit union collected non-perishable foods and donations for the Bountiful Food Pantry, located in Bountiful, UT. This, along with the generosity of the community in Davis County, has helped Bountiful Food Pantry provide meals for families in need.
When talking to Rebekah Anderson, the Executive Director of the Bountiful Food Pantry, she stated that "Thanks to the donations of the community during 2021 we were able to provide 2.3 million pounds of food." Anderson also explained that this would not be possible without the hundreds of volunteers. She expressed that although things have changed, due to the COVID-19 pandemic, there is an even greater need for donations than before.
During the holiday season Horizon Credit Union will be collecting donations of non-perishable foods. However, people who wish to help anytime throughout the year can volunteer with Bountiful Food Pantry or donate food items in need. Anderson shared that the food pantry is always in need of feminine hygiene products, jams and jellies, and pudding cups. For more information about what items are in need you can visit their website at bountifulfoodpantry.org
Categorized in: Charitable, News