10 Ways for Students to Save on Spring Break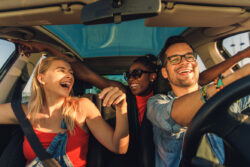 Spring break is a tradition that most students want to add to their college experience. Whether it's visiting a popular hot spot or exploring someplace off the beaten path, it's a chance to create fun memories with friends.
But spring break isn't necessarily cheap. And it can be hard to say "no" when all your friends are going. Before you start eyeing your credit card that's only for "emergencies," review the following ten tips to help make your spring break funds go further.
1. Create a Realistic Budget
Begin by determining how much you can afford to spend on a trip. To get a realistic number, it helps to break your expenses up into categories, such as:
Lodging
Transportation
Food
Excursions
If you and your friends already have a destination in mind, research costs online so you can use accurate numbers. The more detailed your budget, the better.
2. Set Spending Limits
It's easy to get carried away when having fun with friends. But you don't want your financial decisions over spring break to limit your fun throughout the rest of the semester, either.
Before you set off on your trip, set limits on how much you'll spend in each category. Your goal is to reduce frivolous spending so that you can enjoy the activities you already put into your budget.
3. Consider All Lodging Options
If you plan to be gone for close to a week, lodging will make up a big portion of your expenses. Research all options so that you can find a place that works well within your budget, such as:
Hotels
Vacation Rentals
Airbnb
Bed & Breakfasts
Each will have its own pros and cons. For example, a hotel on the beach is convenient, but you might be able to stay at an Airbnb down the road for half the price.
4. Cook Your Meals
Dining out regularly can eat up a big portion of your budget if you're not careful. Instead, try to stay at a place with a kitchen or kitchenette. Buying groceries and cooking at least some meals could significantly reduce the food portion of your budget – freeing up money for more memorable experiences.
5. Road Trip Instead
While flying to your destination is convenient, it can also be costly. Plus, once you land, you'll often have additional expenses waiting for you, such as:
Rental cars
Hotel shuttles
Taxis
Instead, consider taking a road trip. Not only will it help reduce your expenses, but the journey with friends often leads to some of the most memorable experiences.
6. Travel in a Group
If you know other people traveling to the same spring break destination, consider going as a group for two reasons. First, traveling in a group is always smart because it's safer. Second, it can lead to significant discounts on transportation and lodging.
7. Check for Student Discounts
The economies of most popular destinations thrive on spring breakers. Local businesses rely on college students and their money. Most companies will gladly offer student discounts on everything from lodging to excursions and dining discounts to earn their business.
Spend time researching which businesses offer student discounts to help make your money go further.
8. Track All Your Expenses
Once you embark on your spring break experience, start tracking your expenses. It's easy to get carried away when you're excited and start buying unnecessary things – especially if others in the group are doing it. But it's important you stick to your budget, or you could put yourself in a financial hole for the rest of the semester.
Two ways to help keep your spending in check are:
Use your phone to track all your expenses (whether with a budgeting app or a simple note-taking app).
Download our free mobile app to frequently check your account balance, monitor transactions, and transfer money as needed.
9. Avoid Credit Card Debt
Yes, it's true that credit cards can make it easy to go on spring break. But there are two reasons that college students should avoid this route:
Most students have limited income.
Young adults tend to have a limited credit history, meaning the interest rates on their credit cards tend to be pretty high.
With limited income and high-interest rates, you can end up in a debt cycle that's hard to escape. The last thing you want is to be stuck repaying your spring break trip well into the next year or beyond.
10. Ask Your Parents for Help
If you don't have the funds to go on spring break, consider asking your parents for assistance. While they might not be thrilled about you traveling to Miami Beach with your friends, their reaction will be easier to handle than a heaping credit card bill.
When borrowing money from your parents, write out an agreement on how you will repay the money and designate a timeframe. It will demonstrate you're serious about repaying them, help you learn to manage owed money, and force you to create a plan to repay them on time.
We're Here to Help!
Traveling to a fun destination with your friends on spring break is all part of the college experience. But don't let it hamper your finances for the rest of the semester or beyond. Start by creating a realistic budget and work to maximize your money in each category.
Using our free mobile app is a great way to track your spending and monitor your balances. If you're interested in learning more about our mobile app or have questions about performing specific tasks, we're here to help.
Please stop by any of our convenient branch locations or call 801-451-5064 to speak with a team member today.
Categorized in: News