How to Spoil Your Sweetheart on a Budget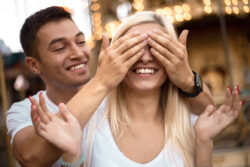 Valentine's Day is right around the corner, and everyone knows "Diamonds are a Girl's Best Friend." While that tune might ring true, crafting a memorable moment for your sweetheart doesn't have to cost an arm and a leg. All it must do is come from the heart. Sure, that might sound cliché, but the sheer number of billionaire divorces proves you can't buy love.
So, let's take a dip in the romance pool and find out how you can create an unforgettable Valentine's Day for your sweetheart – without breaking the bank.
Before You Begin:
Before you stroll to the store to load up on flowers, chocolates, and tear up the gift card aisle…take a breather. Let's get a few things straight first.
They Chose You: First and foremost, your partner chose to spend this romantic occasion with you. What is it about your personality that they find so endearing? Why did you pick them? Rediscover what brings you two together.
It's All About Effort: Time and effort will always outweigh money. Your significant other can quickly tell if you put forth the energy to make the day special.
Budget Doesn't Mean Cheap: Spoiling your sweetheart on a budget doesn't mean you have to cut every financial corner possible. It's all about finding creative ways to make the day special, which shouldn't require you to deplete your emergency fund.
Experiences are Golden. Ask someone what they got three Valentine's Days ago, and they probably couldn't tell you. Shoot, Christmas was several weeks ago, and most can't remember what they received. But experiences last a lifetime. As time passes, the memories become even more cherished.
Quick Recap: Put forth the effort to create an experience that highlights the things you love about one another in a way that doesn't require a second mortgage.
Is everyone still here and on the same page? Ok, let's get started.
A Time for Deep Reflections:
Strike up the Lotus Pose (or grab a glass of wine) and prep your mind. Think about what your sweetheart enjoys – their hobbies, favorite foods, games, what they do on a rainy day. Then, focus your thoughts on things only you know about them.
Go ahead – get sentimental. What memories have you shared that are worth highlighting? Where did you first meet? Where was your first date? What is something they mentioned in passing that would show you were listening? Let all the ideas come to light.
Now, think about something you could do to bring those thoughts to life. Again, it doesn't have to be extravagant. You're simply trying to tell your partner you love them in a creative way.
If you're stuck, don't worry. We have a few suggestions that might help spark some ideas.
Planning Your Experience:
If dropping your entire paycheck on a steak from Salt Bae doesn't sound like a fun experience to you, you're not alone. Instead, find ways to bring everything together in a fun, memorable way. Here are some ideas you can build upon:
Scavenger Hunt: Create a fun-filled adventure that leads your sweetheart on an all-day event through memory lane. Rediscover where you first met, relive your first date, sip coffee at their favorite café, and sprinkle little gifts along the way. Each stop met with new clues to the next destination.
Sorry, future husbands/wives – they'll never forget the person that took them on an all-day scavenger hunt. Never!
Game Night with Fondue: Bring on the fun (and competition) with a game night. Whether it's board games or old-school video games, set the mood with fun decorations. Go ahead and line the walls with Mario Kart decals – we won't judge. Then, create a fun prize wheel for your spouse. Every time they win, they earn a small gift that means something special to them.
Top it off with chocolate fondue and wine. Fondue makers are inexpensive and can instantly create a romantic environment. Load up on berries, graham crackers, marshmallows, pieces of cheesecake – and lots of melting chocolate.
Movie Night with Dinner: Who needs Salt Bae when you can cook their favorite meal? For non-chefs, this is your moment to shine (you can always order a heart-shaped pizza if things go awry). Then, spend the evening snuggled up watching old romantic movies.
Take it up a notch by creating movie bingo based on scenes or phrases from the show. Let your spouse earn small gifts throughout the movie to make it fun and memorable.
Get Outside: Fresh air is wonderful for the heart! Take your sweetheart on a picnic, stroll along the beach, or go on a hike. Is it freezing outside? Even better. Now you have an excuse to snuggle. Depending on where you live, find an exciting outdoor activity. Never underestimate the thrill of a snowmobile ride on Valentine's Day. Then, top it off as you cuddle and make s'mores around the firepit.
WARNING: Creating an unforgettable experience does come with consequences. You're setting the bar pretty high for next year. So, you might want to start coming up with more ideas beginning on the 15th!
Planning to Go Big?
If you're planning to make Valentine's Day one for the record books, as in "Diamonds Are Forever," congratulations! Whether it's an engagement or you're celebrating a milestone, you couldn't pick a more romantic moment.
While you're most likely not spoiling your sweetheart on a budget, you can still keep your finances under control. Might we suggest keeping the credit card in your wallet. Instead, opt for a personal loan. If you already bought the ring, transferring the balance to a lower-cost personal loan is just as easy.
Personal loans typically have lower interest rates than credit cards and borrowing a set amount makes it easier to keep your spending in check. After all, saving money on interest frees up more funds for the honeymoon!
We're Here to Help!
Saying you love someone is only three small words. Likewise, showing someone that you love them doesn't have to be over the top. Let your creativity shine this Valentine's Day – not the coins in your pocket.
Unless, of course, you're preparing to pop the big question. In that case, we're happy to help with an affordable personal loan. If you want to learn more, stop by any of our convenient branch locations or call 801-451-5064 to speak with a member service representative.