10 Ways to Save Money Over the Holidays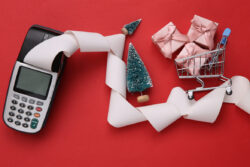 From Thanksgiving to New Year's Day, life often feels like a blur. Between traveling, shopping, decorating, and celebrating with friends and family, it's a nonstop sleigh ride for you – and your wallet!
While the holidays are the merriest time of the year, it's easy to get caught up in the moment and overspend. If your New Year's resolutions include saving more money, the last thing you want is to start January off with a heaping credit card bill. The following ten tips will help raise your holiday spirits while decreasing expenses.
1. Create a Holiday Budget
Whether you follow a monthly budget or not, creating a separate budget specifically for holiday spending is wise. It's easy to lose track of your expenses when so much is happening – parties, decorating, shopping, oh my.
Determine how much you can realistically afford to spend on holiday extras. Once you have a set amount, keeping your spending in check becomes much easier. It also helps to break your budget up into categories, such as travel, gifts, food, and entertainment.
2. Make a Gift List & Stick to It
When the holiday spirit hits you, it can become difficult to rein in your spending. Impulse purchases are one of the leading budget killers, especially around the holidays.
To keep your spending in check, make a list of everyone you plan to purchase gifts for this year. Then, assign a dollar amount to each person. Not only does this strategy prevent overspending, but it also keeps you organized and reduces holiday stress.
3. Draw Names with Family & Friends
Between grandparents, parents, siblings, nieces and nephews, and friends, the list of people to shop for outside your immediate family can become extensive. If your mind is racing as you wonder how to buy gifts for everyone, know you're not alone. Your family members and friends are likely feeling the same way.
To alleviate stress for everyone, consider drawing names. Everyone picks a name out of a hat and purchases a gift for that person. That way, you're only buying one gift instead of a sleigh full. Even if you're not feeling a financial pinch this holiday season, it's thoughtful to suggest drawing names. You never know who among your friends or family could benefit from a shorter holiday list.
4. Suggest a Potluck
Hosting a holiday party can become very expensive very quickly. Whether it's you, a family member, or a friend hosting, suggest making it a potluck. That way, everyone pitches in and brings a dish or supplies. Most people are happy to chip in and help, and the host isn't left shouldering all the expenses. Plus, it's the perfect opportunity to show off your famous sweet potato casserole.
5. Organize a Charity Event
There are many activities to enjoy with your family and guests that don't require your wallet. Instead, organize a trip to your local food bank, soup kitchen, or animal shelter. Volunteering for a good cause, surrounded by those you love, is a great way to boost the holiday spirit.
6. Give the Gift of Time
Some of the most thoughtful and generous gifts don't require money at all. Instead, the gift of your time could be exactly what your friend or family member needs. Babysitting your sibling's kids so they can enjoy an evening out with their spouse could be the perfect present. Or, caring for your friend's pets while they are away could provide peace of mind and save them money versus hiring a pet sitter. Get creative with how you can spread holiday cheer by gifting your time.
7. Consider Renting Your Holiday Attire
If your holiday schedule is packed with events and get-togethers, you're likely stressing over what to wear. This season, consider renting your holiday attire. Many local and online businesses rent everything from cocktail dresses to tuxedos. Plus, you'll not only save money renting outfits, but you might be able to wear something that is normally out of your price range.
8. Redeem Your Credit Card Rewards
The holiday season is the perfect time to cash in your unused credit card reward points. Most reward programs today allow you to redeem your points for gift cards or cash. This is a great way to find gifts for others without dipping into your savings. Or you can exchange your points for gift cards to cover everyday expenses, such as groceries.
9. Use a Credit Card Alternative
The convenience of credit cards makes them one of the most popular forms of payment today – especially around the holidays. But it's that same convenience that makes it so easy to overspend. If you want to avoid a hefty credit card bill in January, look to a holiday loan instead.
Holiday loans offer four distinct benefits that outshine credit cards:
Lower Interest Rates: Holiday loans typically have lower interest rates than traditional credit cards. That means more of your money will go toward holiday fun instead of interest payments.
Fixed Interest Rates: Most credit cards today have variable interest rates. That means your interest rate can rise every time the Federal Reserve raises rates. Alternatively, holiday loans usually have fixed interest rates – meaning your rate will never go up due to the economy.
Set Amount: With a holiday loan, you'll receive a specific amount of cash – for example, $1,500. It's much easier to stick to your budget and prevent overspending with a set spending limit.
Quicker Payoff: Holiday loans are designed to help you avoid long-term debt. With set monthly payments, you'll pay the loan off quicker than if you only make minimum payments on your credit card.
10. Take Advantage of Skip a Payment Offers
Many financial institutions will allow you to skip your loan payments for a month during the holidays. For a small fee, you'll be able to forego making a payment now – and that payment is moved to the end of your loan. Skipping your car loan(s) for a month could free up significant cash for holiday festivities.
We're Here to Help!
There are plenty of ways to make your money go further over the holiday season. Following these tips and remaining mindful of spending are sure to help keep your holiday spirits high. If you're interested in learning more about holiday loans or would like to consolidate outstanding credit card debt before the new year, we're ready to help. Please stop by any of our convenient branch locations or call any of our branches to speak with a team member today.