7 Tips to Help with Holiday Budgeting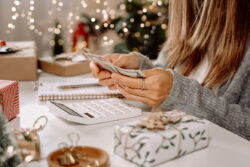 'Tis the season for festive lights, joyful gatherings, and the tempting allure of Black Friday deals just waiting to be seized! As we approach the whirlwind of holiday shopping, take the opportunity now to craft a budget that not only preserves the magic of the season but also safeguards your financial well-being.
With a few simple tips, you can weave a touch of financial finesse into your holiday plans without sending your budget into a tailspin. Unwrap the gift of savvy spending to ensure a season filled with joy and memorable moments.
Make a List & Check It Twice
Start by making a list of everyone you plan to buy a gift for, including family, friends, colleagues, etc. Next, set a spending limit for each person or group on your list. Be realistic about how much you can afford to spend. Then, refer to this list throughout your shopping excursions. It will serve as your roadmap to ensure you're not forgetting anyone and that you're staying within your preset budget.
Black Friday is known for its incredible deals and limited-time offers. It's easy to keep spending once you've already started. There's even a name for it – the shopping momentum effect. While it can be easy to get swept up in the spending frenzy, it's crucial to stick to your list to stay on budget and avoid overspending. If you feel the temptation to impulse buy setting in, take a few minutes to center yourself and review the items in your cart. This tactic will give you a much better chance of only purchasing the things you need.
Don't Forget Shipping Costs
You'll likely be doing some online shopping this holiday season. Don't forget to factor shipping costs into your overall shopping budget to avoid overspending. Shipping fees add up and can quickly catapult you from within budget to over budget, especially if you're ordering from multiple retailers. Before you checkout, look for free shipping offers or coupon codes from the retailer to help you save. You can also use "ship to store" options when available to help you reduce the shipping costs.
Don't overlook the charm of a homemade gift! Handcrafted presents are guaranteed to be a meaningful and budget-friendly way to show your loved ones that you care. Think about how you can use your skills and hobbies to create personalized presents for everyone on your list. Your loved ones will surely appreciate the thought and effort you've put into their gifts.
Don't wait until the last minute to start your shopping. When you put off your shopping, it's almost guaranteed that two things will happen: 1) You're more likely to overspend, and 2) You'll undoubtedly settle for gifts that are less than ideal. Not to mention the added stress of trying to knock out your whole shopping list in a short amount of time! Start your shopping early to ensure you have enough time to make thoughtful choices within your budget.
Get a head start on saving for your holiday shopping next year by putting money aside throughout the year. Consider setting up automatic transfers into an account dedicated solely to holiday spending, such as a Holiday Club Account. You can deposit money into these special accounts during the year, and the funds are released in November – just in time for holiday shopping. They're a great way to save without accidentally spending the funds throughout the year.
Holiday loans are one of the best tools to stay within your budget. They function like a personal loan and provide you with a set dollar amount. This feature makes it easy to budget for holiday expenses vs. relying on credit cards. Plus, the interest rates are typically much lower than traditional credit cards. And with a set repayment schedule, you'll avoid long-term debt as you head into the new year.
We're Here to Help!
By sticking to your list and budget, you can make the most of Black Friday and holiday shopping without sacrificing your financial well-being. Follow these tips to survive this holiday season without overextending your budget.
If you want to learn more about holiday loans or how we can help you save money, we're ready to help. Please stop by any of our convenient branch locations or call 801-451-5064 to speak with a team member today. Happy holidays!